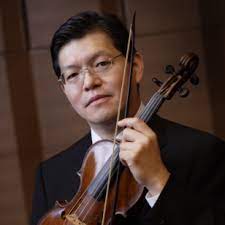 Ryo Terakado (寺神戸 亮, Terakado Ryō, born 1961 in Santa Cruz, Bolivia) is a Japanese violinist and conductor who specializes in historically informed performance. He also plays the viola, viola d'amore and violoncello da spalla. Currently he teaches at the Royal Conservatory of The Hague and the Toho Gakuen School of Music.
Terakado began to study the violin at age four. He won a second prize in the All Japan Youth Musical Competition aged fourteen, and studied at the Tōhō Gakuen Daigaku in Tokyo. In 1984 he became concertmaster of the Tokyo Philharmonic Orchestra.
When he was nineteen, he got interested in the Baroque violin. He studied from 1986 with Sigiswald Kuijken and graduated as a soloist three years later. From 1987, he has performed as concertmaster in several Baroque orchestras in Europe and Japan, including Les Arts Florissants, La Chapelle Royale, Collegium Vocale Gent, La Petite Bande and the Tokyo Bach-Mozart Orchestra. He has been concertmaster of the Bach Collegium Japan which is active in the complete recordings of Bach cantatas, conducted by Masaaki Suzuki, playing not only violin, but also viola and viola d'amore. As concertmaster of il Gardellino, he conducted a recording of Bach solo cantatas for bass with Dominik Wörner, such as Ich will den Kreuzstab gerne tragen, BWV 56. Terakado recorded Bach's sonatas and partitas for solo violin, and also his Cello Suites, playing them on a violoncello da spalla, a small cello played braced against the shoulder.
As a conductor, he has performed Baroque operas such as Purcell's Dido und Aeneas and The Fairy Queen, Rameau's Pigmalion and excerpts of operas by Jean-Baptiste Lully and Mozart.
A music director, medievalist in musicology and recorder player, Pedro Memelsdorff was born in Argentina, graduated from the Schola Cantorum in Basle and the Sweelinck Conservatorium in Amsterdam, and obtained a Ph.D. in Musicology from Utrecht University.
As a musician, he has been a member of Jordi Savall's Hesperion XX/XXI since 1981 and of a duo with Andreas Staier since 1984. In the late 1980s he played contemporary music with the ensemble Broken Consort Zurich. In 1987 he founded the ensemble Mala Punica, specializing in late medieval polyphony, with which he has performed over four hundred concerts in major early-music venues in Europe and America and published eight CDs that have received over forty international awards.
Memelsdorff and his ensemble Mala Punica have been Artists in Residence at the University of California Davis, at the Amuz in Antwerp, at the Fondation Royaumont in Paris, and Blodgett Distinguished Artists at Harvard University in 2014.
As a musicologist, Memelsdorff regularly publishes in the specialized press. He has authored a monograph on the history and codicology of the Codex Faenza 117 (LIM, Libreria Musicale Italiana, Lucca) and is preparing a further volume on the same MS for Brepols.