Ryo Terakado – President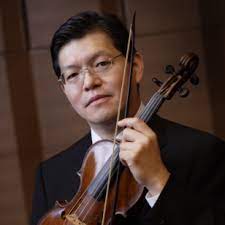 Ryo Terakado (寺神戸 亮, Terakado Ryō, born 1961 in Santa Cruz, Bolivia) is a Japanese violinist and conductor who specializes in historically informed performance. He also plays the viola, viola d'amore and violoncello da spalla. Currently he teaches at the Royal Conservatory of The Hague and the Toho Gakuen School of Music.
Terakado began to study the violin at age four. He won a second prize in the All Japan Youth Musical Competition aged fourteen, and studied at the Tōhō Gakuen Daigaku in Tokyo. In 1984 he became concertmaster of the Tokyo Philharmonic Orchestra.
When he was nineteen, he got interested in the Baroque violin. He studied from 1986 with Sigiswald Kuijken and graduated as a soloist three years later. From 1987, he has performed as concertmaster in several Baroque orchestras in Europe and Japan, including Les Arts Florissants, La Chapelle Royale, Collegium Vocale Gent, La Petite Bande and the Tokyo Bach-Mozart Orchestra. He has been concertmaster of the Bach Collegium Japan which is active in the complete recordings of Bach cantatas, conducted by Masaaki Suzuki, playing not only violin, but also viola and viola d'amore. As concertmaster of il Gardellino, he conducted a recording of Bach solo cantatas for bass with Dominik Wörner, such as Ich will den Kreuzstab gerne tragen, BWV 56. Terakado recorded Bach's sonatas and partitas for solo violin, and also his Cello Suites, playing them on a violoncello da spalla, a small cello played braced against the shoulder.
As a conductor, he has performed Baroque operas such as Purcell's Dido und Aeneas and The Fairy Queen, Rameau's Pigmalion and excerpts of operas by Jean-Baptiste Lully and Mozart.
A music director, medievalist in musicology and recorder player, Pedro Memelsdorff was born in Argentina, graduated from the Schola Cantorum in Basle and the Sweelinck Conservatorium in Amsterdam, and obtained a Ph.D. in Musicology from Utrecht University.
As a musician, he has been a member of Jordi Savall's Hesperion XX/XXI since 1981 and of a duo with Andreas Staier since 1984. In the late 1980s he played contemporary music with the ensemble Broken Consort Zurich. In 1987 he founded the ensemble Mala Punica, specializing in late medieval polyphony, with which he has performed over four hundred concerts in major early-music venues in Europe and America and published eight CDs that have received over forty international awards.
Memelsdorff and his ensemble Mala Punica have been Artists in Residence at the University of California Davis, at the Amuz in Antwerp, at the Fondation Royaumont in Paris, and Blodgett Distinguished Artists at Harvard University in 2014.
As a musicologist, Memelsdorff regularly publishes in the specialized press. He has authored a monograph on the history and codicology of the Codex Faenza 117 (LIM, Libreria Musicale Italiana, Lucca) and is preparing a further volume on the same MS for Brepols.
Emilio Moreno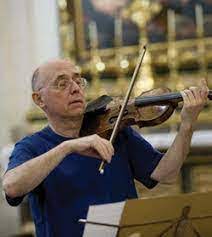 The violinist Emilio Moreno is one of Europe's most distinguished performers of music from the baroque and classical periods and whose musical qualities are matched by the impact of his knowledge. Following studies in music and philosophy in his native Madrid, Moreno was taught by Jaap Schröder at the Schola Cantorum Basiliensis in Switzerland before taking a doctorate in musicology at the Universidad Autónoma of Barcelona. He has since had many years of practical experience around the world as a soloist, conductor and partner of the very best ensembles and musicians: Frans Brüggen, Gustav Leonhardt, La Petite Bande, the Ensemble 415, La Chapelle Royale, Stravaganza Köln, etc. He currently leads the viola section of Brüggen's Orchestra of the 18th Century.
As an eminent music researcher and musicologist, Moreno is contributing in a definitive way to the rediscovery of forgotten music from the Spanish baroque and classical periods. The outcome of his research can be heard in the many concerts and recordings he regularly produces with his ensembles La Real Cámara and, more recently, with his new period instrument orchestra, El Concierto Español. With La Real Cámara, Moreno (a founder of the Glossa label) has provided a survey of music from the times of the painter Francisco Goya, as well as notable discs devoted to the music of Luigi Boccherini (Los últimos tríos and Boccherini en Boadilla) in the company of artists such as Enrico Gatti, Wouter Müller and Gaetano Nasillo.
Moreno today teaches at the ESMUC in Barcelona, where he has been the director of the Department of Early Music. He regularly leads courses and gives master classes around the world.
* * *
El Concierto Español, the orchestra directed by Emilio Moreno, has set itself an ambitious goal: recovering unknown and unjustly neglected repertoire from the Spanish baroque and pre-classical periods, and offering it to the public through both live performances and recordings of the highest quality. No focused attempt to do so had been undertaken by anyone before this moment, in a country still full of many forgotten musical treasures.
The orchestra was founded in 2000 by violinist Isabel Serrano, horn-player Javier Bonet and administrator Mónica Hernández along with Emilio Moreno with the purpose of bringing together their collective enthusiasms and understandings of such Spanish music and also to harness the talents of the best national specialists, of proven experience both inside and outside Spain. El Concierto Español has become a regular performer at early music festivals – such especially as that in Aranjuez – throughout Spain and outside the country too. So far, the orchestra has performed more than fifty works of composers who were active in Spain, the majority of these being modern world premières. Important composers include José de Nebra and Francesco Corselli (the subject of El Concierto Español's initial CD for Glossa). Outside the realms of Spanish music, Moreno has directed El Concierto Español in Handel's Water Music and Fireworks Music in front of 45,000 people in Madrid, possibly the "world record" of public attendance at an early music concert.
Dmitry Sinkovsky
Dmitry Sinkovsky possesses a rare combination of Russian virtuosity and Italian cantabilità. A conductor, violinist, and countertenor, he weaves these three disciplines together with a profound musical awareness, boundless energy, and astonishing technique, resulting in electrifying performances that captivate audiences across the globe.A winner of awards at major European competitions, Dmitry began his brilliant career working with the most prestigious Early Music ensembles, such as Il Giardino Armonico, Il Complesso Barocco, Il Pomo D'Oro, Musica Petropolitana and Accademia Bizantina. He is closely tied to the Belgian ensemble B'Rock and has a had a long-term collaboration with lutenist Luca Pianca and his Ensemble Claudiana, as well as the Helsinki Baroque Orchestra. Additional collaborations have included artists like Alexei Lubimov, Teodor Currentzis, Alexander Rudin, Dorothee Oberlinger, Andreas Scholl, Kristina Mhkitaryan, Christophe Coin, Martina Filjak, and Skip Sempé.
Complementing his achievements in Baroque music, Dmitry maintains an active profile as a classical violinist and conductor, with a diverse repertoire ranging from Mozart to Berg, from Beethoven to Bartók. Equally passionate about choral music, Dmitry works closely with the vocal ensemble Antiphonus Zagreb. He has performed as both conductor and soloist with the Seattle Symphony in Handel's Messiah and Vivaldi's Gloria and returned to conduct a program of Bach Cantatas with the Seattle Symphony Chorale.
Dmitry's international conducting career was launched in the 2012-13 season, when he was featured as a guest on Joyce DiDonato's acclaimed Drama Queens tour. Today, he remains in high demand, performing extensively across Europe, Russia, Asia, Australia and North America. In 2018, he served as resident conductor of the Seattle Symphony Orchestra, where he has been a regular guest since the 2015-16 Season. Additional appearances in the U.S. include his debut with the Detroit Symphony Orchestra, which resulted in an immediate re-engagement as conductor, violinist and countertenor. In Europe, he has led the Spanish National Orchestra, Sinfonietta Riga, Tallinn Chamber Orchestra, MusicaAeterna, Kremerata Baltica, Orquesta de Extremadura, Orchestra Casa da Música Porto, Moscow Chamber Orchestra Musica Viva, State Academic Chamber Orchestra of Russia, and more recently the Orchestra of the Marinsky Theatre for the 800 years city celebrations of Nizhny Novgorod.
In 2011 Dmitry founded his own period instrument ensemble, La Voce Strumentale. Together they released two CD's under the French label Naïve: Vivaldi's Four Seasons (2015) and Bach in Black (2017), and perform at major international festivals and concert halls throughout Europe. Critics have praised the unique sound of their string section – each musician bringing their personality, yet accomplishing a homogeneity that is rarely attained and thrilling to hear.
Having already embarked on an impressive career as a violinist, in 2007 Dmitry decided to pursue his talent as a countertenor, under the guidance of Michael Chance, Jana Ivanilova and Marie Daveluy. Performances as countertenor have included Pergolesi's Stabat Mater at the Lucerne Festival; the title role of Handel's Lucio Silla at the Internationale Händel-Festspiele Göttingen and at the Ludwigsburger Schlossfestspiele; and the role of Ruggero in Vivaldi's Orlando furioso with the Klaipėda Chamber Orchestra, which he also conducted. He is an invited artist of the Bolshoi Theatre in Moscow.
Highlights of the past seasons include performances of Beethoven's Violin and Triple Concerto as well as concerts with Julia Lezhneva & La Voce Strumentale at Zaryadaye Hall in Moscow, the Schleswig-Holstein Music Festival, the Innsbrucker Festwochen der Alten Musik, Sion Festival, and Rheingau Festival. Additional projects in Moscow with La Voce Strumentale include Handel's Il trionfo del Tempo e del Disinganno. Starring his frequent onstage partner, Julia Lezhneva, as well Anne Dennis and Andrew Goodwin, the production featured Dmitry as conductor and vocalist, singing the role of Disinganno. In 2020, he returned to conduct the symphony orchestras of Seattle and Detroit, and made his debut with the Orquesta de Extremadura and with the State Academic Chamber Orchestra of Russia conducting Mozart's Prague Symphony.
The first concert after the lockdown took place in Porto, and was immediately followed by appearances in Cremona, Helsinki, Riga, Potsdam, Moscow, and St. Petersburg. In April 2021 Dmitry conducted Il Pomo D'Oro in Moscow, presenting the Händel's pasticcio Orestes, and in June he opened the Stockholm Early Music Festival with La Voce Strumentale, playing Vivaldi's Four Seasons in the presence of the royals of Sweden. In September he made an important operatic debut, conducting Tchaikovsky's The Queen of Spades with a cast of the Marinsky Theatre at the Boldino Fall Festival in Nizhny Novgorod
Next engagements include invitations as conductor and soloist by the Detroit Symphony Orchestra, the Budapest Radio Orchestra, the RTE National Orchestra Dublin, the Saint Louis Symphony Orchestra, the Atlanta Symphony Orchestra and the Scottish Chamber Orchestra; Porpora's L´Orfeo at the Theater an der Wien with La Lira d'Orfeo, tours with B'Rock and the Helsinki Baroque Orchestra, concerts with La Voce Strumentale, Dorothee Oberlinger and Luca Pianca. In Fall 2022 Dmitry will debut at the Zurich Opera House conducting Cavalli's L'Eliogabalo in the stage direction of Calixto Bieto.
A versatile performer, Dmitry has enjoyed an ongoing collaboration with actors Elizaveta Boyarskaya and Anatoly Bely, appearing as singer, violinist, and actor in 1926, a breathtaking production based on the lives of esteemed poets Boris Pasternak, Marina Tsvetaeva, and Rainer Maria Rilke. Under the stage direction of Alla Damsker, they have been touring this production to Russian-speaking countries since 2018.
Dmitry's many recordings include Vivaldi's Concerti per violino V Per Pisendel under naïve's Vivaldi Edition (Diapason d'Or); critically-acclaimed world-premiere recordings of violin concertos by Tietz and Rosetti with the Pratum Integrum Orchestra (Caro Mitis); Telemann's Trio Sonatas (Berlin Classics) with Erik Boosgraf; and Schumann's Fantasies and Fairy Tales (Naxos) with Aapo Häkkinen, among others. In October 2019, naïve released Virtuosissimo, an album featuring Dmitry on virtuoso violin concertos by Locatelli, Tartini, Leclair, and Telemann with Il Pomo d'Oro, which was awarded a Diapason d'Or. Dmitry is thrilled to have begun a new collaboration with the label Glossa. The first recording, Beethoven's Violin and Triple concerts with Alexei Lyubimov, Alexander Rudin and the Moscow Chamber Orchestra Musica Viva, was released in September 2020 and has been nominated for an ICMA award. 2020 has also seen the release of another ICMA nominated album, The Discovery of Passion with Dorothee Oberlinger (Deutsche Harmonia Mundi). In October 2021 Glossa will release Songs & Poems, a new album with La Voce Strumentale performing contemporary music of the Russian composer Sergey Akhunov on Baroque instruments.
Dmitry is a professor at the Moscow State Conservatory, and artistic director of the Orlando Furioso Festival in Dubrovnik.
He studied violin at the Moscow Conservatory under Alexander Kirov, and choral conducting at the Zagreb Music Academy under Tomislav Fačini. Additional studies include operatic and orchestral conducting under the guidance of Sabrie Bekirova (diploma of the Institut supérieur des arts de Toulouse).
In February 2022 Dmitry was appointed chief conductor of the Nizhny Novgorod Opera where he conducts Evgeny Onegin, La traviata, Il barbiere di Siviglia and Gluck's Atto di Orfeo.
Romano Vettori
Romano Vettori had a classical education while studying piano, harpsichord and composition. He has a Degree in Musicology and a Doctorate in Musicology and Musical Heritage from Bologna University.  He has published essays in musicological journals and in series with an international distribution, and has made numerous transcriptions of sacred and secular music from the XVI-XVII centuries and the XVIII century. His research  concentrates on Renaissance and Baroque music history, in particular regarding Trentino and Northern Italy. In parallel with research, he is deeply involved in organization and musical performance, due to his role as Artistic Director of the Academy of Ancient Music of Rovereto  (Euregiomusica Project – Bonporti Baroque Orchestra & Choir, Premio Bonporti International Baroque Violin Competition, Premio Ferrari International Fortepiano Competetition). He conducts both in Italy and abroad and has recorded, mainly unpublished works, (Viadana, Cavalli, De Kerle) for Fonè, Stradivarius and Bongiovanni. He is the Archivist of the Philharmonic Academy of Bologna, (founded in 1666) and Professor of Choral Conducting and Choral Repertory at the "C. Monteverdi" Bolzano Conservatory.