Susanne Scholz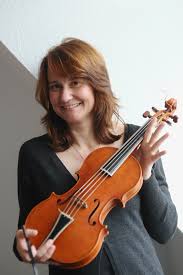 Violinist on Renaissance, Baroque and Classical instruments and conductor of ensembles from the Renaissance consort to an opera ensemble, performs concerts and gives master classes and lectures throughout Europe and beyond. In addition to her studies in Graz, Vienna and The Hague she gained musical experience in many European countries. Since 1995 Susanne has been active as a teacher, first in Vienna (Private University), then from 1999 to 2017 in Leipzig (Hochschule für Musik und Tanz) and since 2012 in Graz (Kunstuniversität), where she holds a chair for baroque violin and chamber music/baroque orchestra. Working together regularly with colleagues from all over Europe, she strives to demonstrate and pass on her interest and passion for new questions in music practice.
She also explores new repertoire and how to convey this cultural richness to the audience. Susanne Scholz directed major opera productions in Leipzig, many of them as first modern-day performances, with operas by Sebastiani, Heinichen, Telemann, Bononcini, Förster, Blow and Hasse. She has also led major works by Vivaldi, Purcell, Campra, Stradella, Fux, Draghi and Lully. In all these productions, Susanne Scholz directs the musical side of the productions from the concertmaster's desk. In Graz, Susanne Scholz is currently conducting the third opera production of a series (called "Opernkurzgenuss") in cooperation between the University of Arts and the Opera Graz. In 2019, the oratorio "San Giovanni Battista" by Antonio Maria Bononcini and "La Serve Padrona" by Giovanni Battista Pergolesi will be given under her musical direction.
From 2018 Susanne is working on her doctoral theses and is extending her experience also towards contemporary music.
Together with the newly founded ensemble gamma.ut, she is exploring the repertoire of the violin family from the Renaissance onwards in smaller formations and doing research on the five Renaissance violins that were given to the golden angels at a height of 12 metres in the Freiberg Cathedral around 1594.
Numerous recordings bear witness to her artistic activity, the realization of her artistic research has led to CD productions with her ensemble chordae freybergenses and to a very special recording of the Sonatas Opus V by Arcangelo Corelli with her harpsichord partner Michael Hell (released by Querstand in 2015 and 2018). During the last twenty years, Susanne Scholz has passed on her research lecturing on many different matters within the field of Performance Practice in Germany, Italy, the USA; Belgium, Taiwan, Italy, France, Finland, Latvia and Switzerland, has organized conferences at the Hochschule für Musik und Theater Leipzig and is taking actively part in the conferences organized by the University of Art Graz.
Veronika Skuplik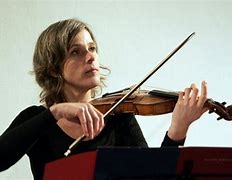 Studied at the Folkwang University of the Arts Essen, University of Münster and Akademie für Alte Musik (now University of the Arts) Bremen. There she graduated under Thomas Albert with a diploma for baroque violin in 1991. Veronika Skuplik travels all over Europe, Israel, the US, Australia, New Zealand, China and Korea for concerts, recordings and teaching activities. As an internationally renowned soloist she plays mainly in ensembles like Concerto Palatino, Weser-Renaissance Bremen, L'Arpeggiata – where she has been the violinist for more than 15 years –, la dolcezza, the Collegium Vocale Gent, as well as with the Freiburg BaroqueConsort and with her musical partner Andreas Arend (lute). In her own ensemble, called UrgentMusic, she gets together with other esteemed and passionate musicians.
Veronika Skuplik was "artist in residence" at the 2011 Oude Muziek Festival Utrecht and at the 2012 Festival Musica Veche in Timisoara. She teaches baroque violin and baroque viola at the University of the Arts Bremen and supervizes further masterclasses and orchestra projects in Hamburg, Katowice (Poland) and in the US at the Carnegie Hall, in Madison, Oberlin and Rochester. One of her passions is the repertoire of the 17th century, which is characterized by its proximity to singing, its richness of emotion and joy of experimentation. The speaking and singing style of her music-making has been praised time and again by her fellow players, the audience and critics.
Veronika Skuplik's discography comprises around 100 CDs, among them a solo CD VIOLINO I for unaccompanied scordatura violin with anonymous sonatas from Austria around 1680. Last September silk&tweed – Nicola Matteis' sentimental journey was released by the label fra bernardo. The project VIOLINO II with anonymous Austrian sonatas for violin and basso continuo – mostly world premiere recordings – is in preparation.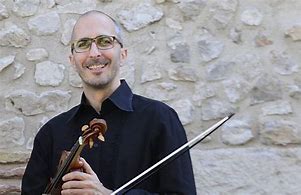 After graduating from the "A.Steffani" Conservatory in Castelfrando Veneto, he attended the Baroque violin class of M. E. Gatti at the Civica Scuola di Musica in Milan.
In 1992 he took part in the tours of the European Community Baroque Orchestra.
He was invited for the 2002/2003 academic year to give a course on "History of performance practice: chamber music" at the University of Musicology of Cremona. He is currently Professor of Baroque Violin at the "A. Boito" Conservatory of Parma. On 16 October 1994, a concert was organized at the Stift Rein, near the city of Graz, whose program is entirely made up of its own compositions, written for the occasion, obtaining a broad consensus; since then the activity of composer and reviser inseparably joins that of violinist. He edited the revision of the "Assalonne Punito" oratory by P. A. Ziani, composing the lost instrumental parts; this version was performed in 1997 in Naples, in 1998 in Piacenza and in Berlin by the ensemble "Il Complesso Barocco" under the direction of M. A. Curtis. The same American master commissioned him in 2005 to reconstruct the recently discovered work of A. Vivaldi: "Motezuma". This reconstruction was recorded for Deutsche Grammophon and will be published for the Baerenreiter publishing house.
The "Festival dei due Mondi" of Spoleto, staged in July 2006 its reconstruction of the work of A. Vivaldi "Ercole sul Termodonte" under the direction of m. A. Curtis. He currently works as the first violin with "La Cappella della Pietà dei Turchini" (Naples). He rebuilt the comic parts of the work "Ottavia returned to the throne" by Domenico Scarlatti represented, under the direction of A. Florio, at the Victoria Eugenia theater of S. Sebastian during the "Quincena musical 2007".
He directed the "Serenata à tre" RV 690 by A.Vivaldi at the Rossini theater in Pesaro for the "Progetto Orfeo: International Academic Opera and Theater Festival" June 2009.
He is the founder of the ensemble "Il Coro d'Arcadia", specialized in research and revival of the Italian repertoire of the seventeenth and eighteenth centuries, with which he performed
concerts at the Radovlijca (Slovenia) and Pavia Barocca (2015), Madrid (March 2016) and in the Pyrenees festival (July 2016).
Carlo Fiore
Carlo Fiore, graduated from the Conservatory of Milano and the University of Bologna, PhD from the University of Rome "La Sapienza", is a musicologist, music critic and designer and he teaches Music History at the Palermo Conservatory. Among his publications: Preparare e scrivere la tesi in musica (2000), Josquin des Prez (2003), Madonna (2003), Il libro di musica. Per una storia materiale delle fonti musicali in Europa (2004), Bach Goldberg Beethoven Diabelli (2009) and an extensive bibliography including also essays for the Enciclopedia Italiana Treccani. Since 1999 he has collaborated as a critic for «Classic Voice» magazine for which he also edited the collection of early music recordings «Antiqua»; since 2014 he is secretary of the Associazione Nazionale Critici Musicali. He founded the music and graphic design studio «Venti caratteruzzi», whose graphic and editorial production, published and awarded annually in the Graphis Annual, includes works for publishers, musical institutions and museums such as the Teatro Massimo, the Accademia Nazionale di Santa Cecilia, the Festival della Valle d'Itria, the Duni Festival, Urbino Musica Antica, L'Epos, Giuseppe Barile Editore, Società Editrice di Musicologia, Brepols, Leuven University Press, the Gallerie degli Uffizi, the Istituto Italiano di Cultura di New York.
Romano Vettori
Romano Vettori has a degree in musicology and a PhD in Musicology and Musical Heritage from the University of Bologna. He has published essays in journals and in International musicological series  and has made numerous transcriptions of sacred and secular music from the XVI-XVII and XVIII centuries. His research is accompanied by intense organisational and concert activity as Artistic Director of the Academy of Ancient Music of Rovereto, which he founded in  1979  (Euregiomusica Project – Mitteleuropäisches Barockorchester und Chor, Premio Bonporti International Baroque Violin Competition and Premio Ferrari International Fortepiano Competition), conducting in Italy and abroad. He has recorded, mainly unpublished works (Viadana, Cavalli, De Kerle), for Fonè, Stradivarius, Bongiovanni. He is the Archivist of the Accademia Filarmonica of Bologna and  Professor of Choral Conducting and Choral Repertory at the Conservatory of Music "G. Tartini " in Trieste.