Enrico Gatti
Born in Perugia, Italy, Enrico Gatti has dedicated himself to the study of XVII and XVIII century repertoire. A pupil of Chiara Banchini, he obtained the diploma in baroque violin at The Conservatory of Music in Geneva, Switzerland; he finished his studies under the guidance of Sigiswald Kuijken at the Royal Conservatory in The Hague, Netherlands.
He has concertized extensively in Europe, Canada, America, Russia, Japan and Australia, performing with, among others, La Petite Bande, Ensemble 415, Concerto Palatino, Hesperion XX, La Real Cámara, as leader of Les Arts Florissants, Les Talens Lyriques, The Taverner Players, The King's Consort, Ricercar Consort, Bach Collegium Japan, Accordone Ensemble, Accademia W. Hermans, Concerto Köln and ARTEK (New York), as well as with directors such as Gustav Leonhardt and Ton Koopman. He directs the Ensemble Aurora, which he founded in Italy in 1986. He has recorded for Harmonia Mundi (France and Germany), Accent and Ricercar (Belgium), Fonit Cetra, Tactus and Symphonia (Italy), Arcana and Astrée (France), Glossa (Spain) as well as recording for the Italian, French, Swiss, Spanish, Dutch, Belgian, German, Swedish, Finnish, Russian Canadian and American radio networks. He was assigned the first prize "Antonio Vivaldi" in 1993 and 1998 and several times the "Diapason d'or".
Enrico Gatti has developed a distinguished teaching career as professor of baroque violin at The Conservatory of Music in Toulouse, France, the Conservatory of Geneva, the Schola Cantorum of Basel, Switzerland and the Civica Scuola di Musica in Milan. He teaches presently at the Royal Conservatory of The Hague and at the Conservatorio "G.B. Martini" of Bologna. He has also given masterclasses at the Conservatories of Paris, Lyon, Bordeaux, Madrid, Amsterdam, Utrecht, at the Hochschule für Musik of Trossingen, the University of British Columbia, the University of Texas, the University of Salamanca, the University of Tokyo, the Accademia Chigiana of Siena, the Scuola di Musica of Fiesole, and has taught as well in many summer courses in Urbino, Erice, Venezia, Lanciano (Italy), Barbaste (France), Spa (Belgium), Béjar (Spain), Szombathely (Hungary), Amherst (U.S.A.).
Enrico Gatti was a member of the jury for the international early music competitions at Bruges (1993), Brescia (1995), Rovereto (1997 & 1998, president of the jury in 2010), "Symphonia en Perigord" (1998) and "Principe Francesco Maria Ruspoli" (2012, president of the jury in 2014). From 1997 to 2005 he has been artistic director of the Urbino Early Music Course. He is now member of the Scientific Committee for the national critical edition of the complete works of Alessandro Stradella and will be the President for the Scientific Committee for the international Symposium "Arcomelo 2013" which took place in Fusignano in November 2013 to celebrate Arcangelo Corelli's death tricentenary. He published several articles on early music performance practice as well as facsimile editions of Italian violin music, and more recently an essay on the history of diminution.
Luca Giardini
Luca Giardini studied modern violin in Milan and Lugano with Carlo Chiarappa. He then devoted himself to study further the historically informed practice of the violin music between 17th and 19th century, under the guidance of specialists such as Catherine Mackintosh, Monica Huggett, Nicolette Moonen and Peter Hanson in London and Anton Steck.
After working with many chamber and symphony orchestras in Milan, in 1998 he started to collaborate on a regular basis with the most important European Early Music groups, playing at some of the major concert venues all over the world. Luca regularly performs with ensembles such as: Europa Galante, Accademia Bizantina, Il Giardino Armonico, Complesso Barocco, Ensemble Zefiro, Modo Antiquo, Ensemble Concerto, Il Rossignolo, Aglaia, La Venexiana; I Barocchisti, The Orchestra of the Age of Enlightenment, The Bach Ensemble, Al Ayre Español, Ensemble Matheus, La Cetra-Basel, Marini Consort-Innsbruck, Divino Sospiro, Collegium 1704, Ensemble Baroque de Limoges. Among the renowned conductors and soloists he works with are Simon Rattle, Frans Brüggen, Philippe Herreweghe, Cecilia Bartoli, Ian Bostridge, Giuliano Carmignola, Ottavio Dantone and Christoph Coin.
Luca took part in over 70 recordings for labels such as Philips, Sony, Decca, Emi, Emi-Virgin, Harmonia Mundi, L' Oiseau Lyre, Naxos, Brilliant classics and Naïve. He recorded for the most important Radio and TV stations in Europe, America and Asia. He also regularly participates in audio-visual and DVD projects.
Luca has recorded many 17th and 18th century music rediscovery albums, some of which were awarded prestigious prizes such as: Grammy Award, Diapason d'Or, Choc de la Musique, 10 Répértoire, Premio Fondazione Cini – Venezia, Premio Abbiati.
He teaches baroque violin at the Conservatorio "Maderna" in Cesena and at the Conservatorio "Boito" in Parma, Italy.
His chamber music activity spans from duo to quintet on period instruments, with a particular predilection for the repertoire for violin and keyboard (harpsichord and fortepiano).
Since 2011 he has been a member of the Albada Quartet.
In order to excel in performing different repertoires, Luca plays several historical violins, among which a "Don Nicola Amati" (Bologna, 1730), using bows which are either originals (among which a 1775 "Nicolas Leonard Tourte" and a 1780 "Dodd" ) or faithful copies.
Richard Gwilt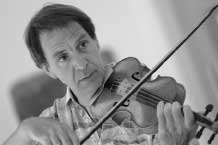 Richard Gwilt is well established as one of Europe's better-known baroque violinists (London Baroque) and teachers (Hochschule für Musik, Köln). Born and educated in Edinburgh, he has degrees in music from the University of Birmingham, and the University of Michigan (Ann Arbor), U.S.A. While at Birmingham, he studied violin with Orrea Pernel. He started playing the baroque violin in 1980 while at the University of Michigan, and on returning to England in 1983 joined the mainstream of the English period instrument performing scene.
He has played and recorded with many orchestras, including theEnglish Concert with Trevor Pinnock, the Academy of Ancient Music with Christopher Hogwood, the English Baroque Soloists with John Eliot Gardiner, and the London Classical Players with Roger Norrington. He has also worked with many orchestras in Europe, including Anima Eterna with Jos von Immerseel and La Chapelle Royale with Philippe Herreweghe.
It is, however, as a chamber musician that Richard Gwilt has built his reputation. He has been a member of London Baroque since 1984, and has worked with numerous chamber ensembles throughout Europe. He has performed in most of the major chamber music concert halls (including the Concertgebouw in Amsterdam, the Konzerthaus and Musikverein in Vienna, the Wigmore Hall and Purcell Room in London and the Alice Tully Hall in New York) as well as other venues throughout Europe, Japan and the Americas. He has also made frequent radio and television performances, and recorded over thirty CDs, as both chamber musician and soloist.
A recent expansion of his chamber music activities has been the formation of the ensemble, Arcomelos, with violinist Irmgard Schaller and cellist Sibylle Huntgeburth.
In addition to his work as a chamber musician, Richard Gwilt also works as a conductor and musical director, and is very active as a teacher. As conductor and musical director, he has worked among others with the Remix Baroque Ensemble in Porto (Portugal) with Concerto Armonico in Freiburg, and with the Altemusik ensemble in the Musikhochschule in Köln.
In 2005 Richard Gwilt was appointed Professor of Baroque Violin at the Hochschule für Musik in Cologne. Previously he was professor of baroque violin and viola at Trinity College of Music in London (1986-2005) , and has taught at both the Royal Academy of Music and the Royal College of Music in London. He teaches regularly for the Academia de Musica Antiga de Lisboa in Portugal and the Ringve International Summer Course (Trondheim, Norway), and is a tutor for the EUBO audition courses. He has also taught on courses in Israel and Germany and given masterclasses throughout Europe and the States. As an expansion of his pedagogical activities, he has recently embarked on a series of articles about different topics concerning the violin and baroque performance practice. These essays can be found at baroque-violin.info.
As well as performing and teaching, Richard is also active as a composer and music editor. As an editor and publisher (RG Editions), he concentrates on currently unavailable 17th and 18th century string music. As a composer he writes mainly chamber music for strings and sometimes voice. His concentration in this field is on practicality. Recent works have included Sextuplet, a piece for six violins to complete a programme of music for three to six violins, and two trios for the unusual (but required) combination of violin and two cellos! Another rather different development has been a proliferation of songs for children.
Susanne Scholz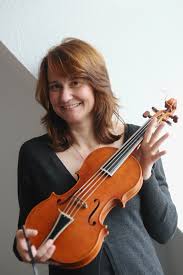 Susanne Scholz  hat sich nach Studien an den Hochschulen für Musik in Graz und Wien auf das Spiel der Barockgeige und der damit verbundenen Aufführungspraxis spezialisiert. Durch intensive Studien und die Konzerttätigkeit mit zahlreichen Gruppierungen in und aus ganz Europa sowie durch die Zusammenarbeit mit vielen hervorragenden Persönlichkeiten der Alten Musik Szene wie z.B. William Christie, Sigiswald und Wieland Kuijken, Alan Curtis, Enrico Gatti, Rene Clemencic, Joshua Rifkin und Ryo Terakado sammelte sie eine umfassende Erfahrung, die sie durch das Studium bei Sigiswald Kuijken in Den Haag vervollständigte.
Nach jahrelanger Lehrtätigkeit an der Abteilung Alte Musik am Konservatorium der Stadt Wien wurde sie 1999 als Professorin für Barockvioline und Kammermusik an die Hochschule für Musik und Theater Leipzig "Felix Mendelssohn Bartholdy" berufen, wo sie bereits zahlreiche Kammermusik- und Orchesterprojekte wie auch Opernproduktionen in Zusammenarbeit mit dem Leipziger Bachfest geleitet hat. Überdies hat Susanne Scholz über fünf Jahre Gastkurse für Barockvioline und Barockorchester an der Universität für Musik und darstellende Kunst in Graz abgehalten, die in großen Produktionen von Opern von J.J.Fux, A.Draghi u.a. ihren Abschluß fanden. Sommerkurse wie die Tage der Alten Musik in Pöllau/Österreich komplettieren ihre reiche pädagogische Arbeit.
Künstlerisch betätigt sich Susanne Scholz als Solistin und Konzertmeisterin in großen Ensembles wie ""Les Arts Florissants"", ""La Petite Bande"" und mehreren kleineren Formationen wie z.B. der ""Compagnia de Musici"", mit der sie zuletzt Konzerte von Carlo Tessarini eingespielt hat.
Über 50 weitere CD- und Rundfunkproduktionen als Kammermusikerin und Solistin runden ihre künstlerische Tätigkeit ab.
Sowohl im pädagogischen wie auch im künstlerischen Bereich legt Susanne Scholz besonderes Augenmerk auf jene Feinheiten in der Musik, die ich nur durch intensives Studium der Quellen und der besonderen historischen Instrumentaltechnik zu erkennen geben: ""Erst eine so geschulte Musikalität und Intuition kann alle Dimensionen der Musik vergangener Epochen hörbar machen und ihr zu dem ihr gebührenden Applaus verhelfen"."
Susanne Scholz spielt Violinen von Capolino di Salo (Brescia, 1620), Federico Lowenberger (Genua 2003 nach A. Stradivari) und von Johannes Jais (Bozen 1781) und Bögen von Hans Salger (Bremen), Antonino Airenti (Genua).
Romano Vettori
Romano Vettori has taken a degree in musicology and a PhD in Musicology and Musical Heritage at the University of Bologna, he has published essays in magazines and in musicological International series  and he has made numerous transcriptions of sacred and secular music of the XVI-XVII and XVIII centuries. His research activity is accompanied by a rich organizational and concert activity as artistic director of the Academy of Ancient Music (Euregiomusica Project – Mitteleuropäisches Barockorchester und Chor, Premio Bonporti International Baroque Violin Competition and Premio Ferrari International Fortepiano Competition),performing artistic activity as director in Italy and abroad. He made engravings, mostly of unpublished works (Viadana, Cavalli, De Kerle) for Fonè, Stradivarius, Bongiovanni. Archivist of the Accademia Filarmonica of Bologna, Professor of Choral Conducting and Choral Repertory at the Conservatory of Music "G. Tartini " in Trieste.